The Company
Domestic Designs Ltd is a registered company that conducts itself with the utmost professionalism. We strive to provide the best service for our customers in every aspect. The company currently comprises a team of four from left to right Michael Goodyer, Jamie-Lee Collins, Alex Ramsden and Ben Morris.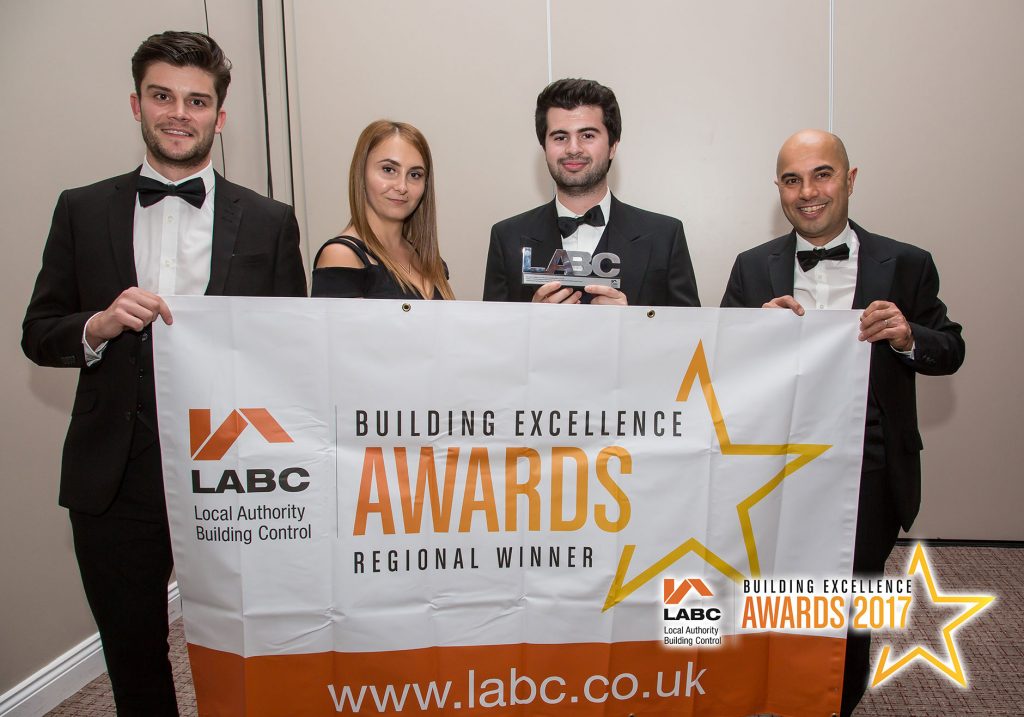 The Domestic Designs team at the 2017 LABC Building Excellence Awards
Originally incorporated in 2006 and trading since April 2011 then as Rosser Morris Ltd, we have moved offices into larger premises and extended our client catchment area into Central London and beyond. On average we handle 250 individual projects annually for new and repeat customers who generally come through recommendation.
What We Do For You
Whether you are preparing for a new development, or an alteration or extension to an existing property, Domestic Designs are here to guide you from beginning, through Local Authority legislation, to completion. We will visit you at the site to discuss your requirements and provide you with a free, no-obligation quotation. On appointment we will survey your property and use the information to prepare building plans and specifications, using our CAD software which produces 3D model to add realism. This is also known as Building Information Modelling (BIM). When you are happy with the proposals we submit the planning and building regulation applications on your behalf.
Because each job is unique and priced individually it will be fixed as far as possible. However, we sometimes need to call on structural engineers and other consultants, and therefore would need to charge accordingly. Please be assured we always aim to be as transparent as possible.
The Whole Package
Since forming the company we have made some vital contacts which have become increasing necessary due to changes in legislation. A successful application often requires input from the consultants that we work with. We have planning professionals for the more complex of applications and engineers that can prepare all necessary structural calculations. If necessary, we also have associates that can tackle heat loss calculations and sustainability issues.
In summary, we aim to provide the complete package whereby we hand you all of the approvals to accompany your building plans so you really don't have to worry about anything before the building works commence.
Please contact us for more information about our services.